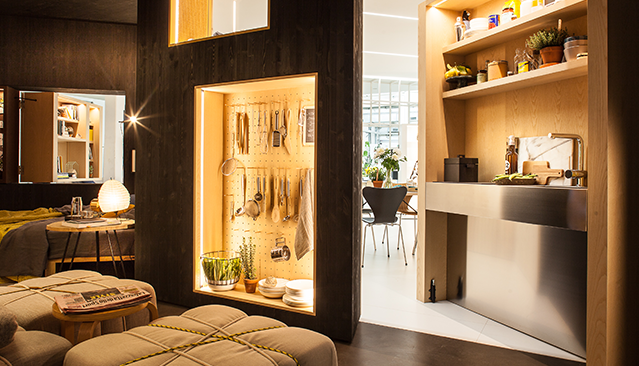 MAKE SPACE FOR INGENUITY: THE MINI LIVING "DO DISTURB" INSTALLATION AT SALONE DEL MOBILE 2016.
"Creative use of space" has always been at the core of the MINI brand. Now, with the "MINI LIVING" installation, MINI demonstrated how this principle can also be applied to urban living spaces. This unique installation was made available for visitors to experience at Milan, Italy during the Salone del Mobile.
MINI LIVING addresses one of the most pressing challenges of urban living – the shortage of attractive, affordable housing – and offers a potential solution in the form of a modern shared-living concept. "MINI has always been a quintessentially urban brand, a brand for the city, and this is also where a lot of our customers live," says Esther Bahne, Head of Brand Strategy and Business Innovation at MINI. "We have to take a holistic approach to the city and think about solutions that are relevant to the needs of the people who live there. This is what the MINI LIVING installation is all about."
MINI LIVING turns "sharing" into an adventure in its own right. Occupants who make their individual living space and functions sharable with the wider community can quite literally "open up" to interaction and experiences that would not be possible in a conventional private space. "With the MINI LIVING installation, we're looking to be part of a debate about future forms of shared living. In the city, more and more people have to share space which is increasingly scarce and finite. We see a lot of potential in this situation for making urban living more communal and reciprocal. The installation combines both sides of the equation within a compact footprint – it is both a haven of privacy and also an interface to the wider community," says MINI LIVING project manager Oke Hauser.
As a closed space, MINI LIVING provides its occupants with all the security of living in their own four walls. But since those walls are flexible, the installation blurs the normal boundaries between the private and the communal. When and to what extent occupants actually want to share their space and time with the community around them is entirely up to them. However, as the overall motto of the MINI LIVING installation, "Do Disturb", already implies, this concept has been designed specifically to encourage interaction and to provide an alternative to urban anonymity. Visitors can experiment with the flexible elements of the installation to discover for themselves all the different possibilities that are achievable in the spectrum between an "open" and a "closed" living space.